Utility Power Solutions
Powering the Most Innovative Solutions for Energy Professionals

As an energy professional, you face constant reliability, regulation, security and safety challenges. Our industry-leading portfolio of services help you meet these challenges and realize labor and supply chain stability and efficiency. Our collaborative and customizable approach coupled with an extensive history of successful implementation and execution can help you exceed the expectations of your customers and stakeholders.
Markets Served
As a leading electric utility distributor in the United States and Canada, we serve:
Gas and Electric Utilities – including investor-owned utilities,
co-ops, municipalities, government, generation and transmission
(G&T) entities
Utility Contractors – We offer reliable and efficient third-party material management to utility contractors to help you streamline operations and maximize efficiency.
Our Products Build Your Solutions
Access the broadest utility portfolio in the industry - more than 300,000 products.
Alarms, horns, signaling devices
Conduit, cable tray, boxes and fittings
Controls, relays, pushbuttons, fuses
Enclosures, wireway, raceway
Fasteners, cable ties
Fuses, cutouts and safety devices
HMI, power line controllers
Insulators and arrestors
Lamps, lighting fixtures and controls
Mass notification
Metering components, sockets and switches
Molded rubber products and connectors
MRO products
Pads, pedestals and enclosures
Poles, structures and substation connectors
Smart grid solutions, metering and communications
Switchgear, panel and switchboards, busway
Terminals, wiring devices, connectors
Transformers, power supplies
Supply Chain Solutions for Utilities
Reducing costs, saving time, improving productivity and mitigating risks are our goals for every customer and project. With our customizable Supply Chain Solutions, you can eliminate costs, address sustainability requirements, enhance focus on your core competencies and stay competitive in the marketplace.
Materials management and disposition
Critical spares management
Custom warehouse services
Material packaging QA/QC
Storm/event kitting
Turnkey yard layout and management
Remote inventory tracking
Wire and cable management solutions
Customized metrics and reporting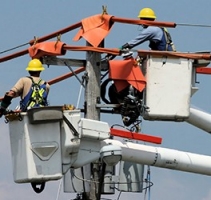 Utility Expertise
Anixter understands the various power, safety and security challenges you face. From system interoperability and standards to the integration of perimeter security, access control and video surveillance, our technical solutions managers provide an unbiased-manufacturer approach.
Advanced metering infrastructure
Meter data management
Prepayment and customer portal
Cybersecurity
Supervisory control and data acquisition
Distribution automation
Lighting design services
LED solutions
Meter installation and change-out services
Inspections and tests on products
Tool applications and training
Product safety training services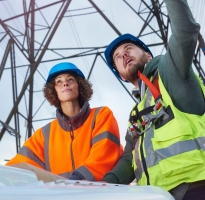 Resources

Utility Solutions Linecard
Anixter offers a wide selection of high voltage electrical products to help utility customers build new infrastructure, retrofit existing equipment and quickly respond to outages.