Anixter and Axis contribute to improving videosurveillance in Medellin
Anixter and Axis Communications took over the implementation of a cutting edge videosurveillance system in the city of Medellin, Colombia. It is the new Integrated Metropolitan Emergency and Security SIES-M system, a combined strategy that seeks to coordinate the different State agencies. All the details, in this article.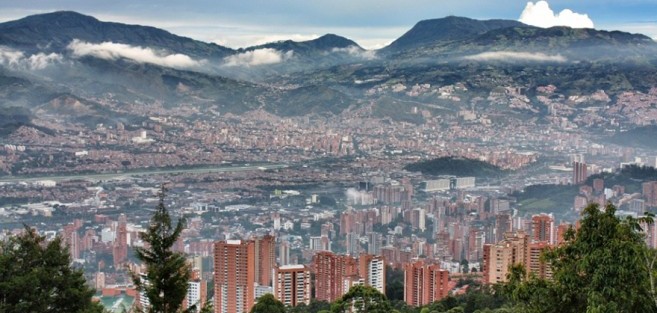 Since 1996, the city of Medellin has had a city surveillance system, which, by the year 2010, had a total of 222 analog auto-dome cameras installed at different strategic points in the city. Each camera had two information channels –video and control– which were transmitted by analog signal to and from the monitoring HQ of the Single
Number for Safety and Emergency services - NUSE 123, whether by telephone and/or fiber optics.
Today, the city has rapidly evolved and the complexity of its management is growing by the day. To strengthen security, the Ministry of the Interior and Justice has been leading the establishment of the Single Number for Safety and Emergency services, NUSE 123, which is a constituent element of this initiative, making it possible to improve civic solidarity and governance.
The implementation of the system made it necessary to migrate from existing videosurveillance system in the Medellin Town Hall towards a technology with improved features, such as digital networks. After a market analysis conducted by ESU Alliance-Union Group, an IP design was proposed without having to get rid of all the existing analog cameras. With that purpose, AXIS Q7401 encoders and new AXIS Q6034-E auto-dome IP surveillance devices were installed. These devices provide a high level of availability, maneuverability and definition for supporting the network of security and emergency agencies in the city.
Anixter Added Value
Through Anixter, distributor of the industry's main vendors of infrastructure, security and communications systems, the ESU Alliance-Union Group (Alianza ESU-Grupo Unión Eléctrica) carried out an integration process with several manufacturers, including Axis Communications. This integration resulted in an IP videosurveillance system meeting all the requirements of cutting edge technologies, which, additionally, can be easily expanded. By the end of 2013, an integrated system of about 400 Axis IP cameras is expected to be operating at full capacity.
The initial cost considered to upgrade the videosurveillance system in the city of Medellin was 5 million dollars, financed in its totality by the City Town Hall. This project not only comprises the videosurveillance system upgrading, but also the migration of the entire emergency and security system to what is called the new Integrated
Metropolitan Emergency and Security SIES-M system, a combined strategy that seeks to coordinate the different State agencies. The project has an approved total investment of 16 million dollars.
The city of Medellin, located 1,550 m above sea level, covers 382 Km2, with 110,9 Km2 in urban areas. Its population density is 16,083 inhabitants per km2, and it has a population of 2,223,078 inhabitants living in a total of 16 sections, 249 neighborhoods and 5 districts.
You too can be part of our next success story!
To purchase all the solutions Anixter and Axis Communications offer, please contact your Account Executive at Anixter and obtain all the added value only a distributor like Anixter can offer your business.