Environmental sustainability - A high business potential - Part 2
Explaining and citing examples of how IT can assist its organization in meeting sustainability compliance goals can provide a competitive advantage that enables a professional to secure more business.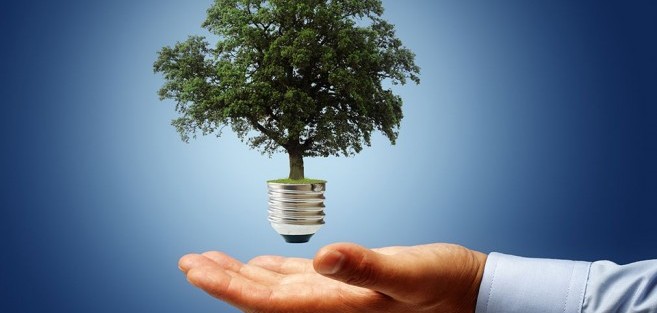 What This Means to Telecommunications Infrastructure Professionals ?
As these trends indicate, there is a great deal of momentum behind and focus on sustainability.
Explaining and citing examples of how IT can assist its organization in meeting sustainability compliance goals can provide a competitive advantage that enables a professional to secure more business. For RCDDs, understanding green concepts and how the RCDD designation can assist companies in meeting their sustainability goals is becoming a key to business success.
Knowing the answers to the following questions may help to leverage knowledge of green concepts to assist organizations or customers.
STEP 1
¿Does the company or project have a sustainability initiative?
To find out, check the RFQ, which might state this as goal, or visit the company's website. Many publically traded companies in key industries like education and health care highlight their sustainability initiative and goals. In today's competitive environment, this knowledge could be a trump card.
STEP 2
¿How can a professional assist the organization in accomplishing its sustainability goals?
Customers' sustainability goals can range from recycling toner cartridges to determining how close a new building is to a commuter rail station, which can earn points under the LEED New Construction point system. Although many of the categories are not addressable by IT professionals, a few key aspects could enable someone to contribute.
For example, diverting construction site waste from a landfill and recycling it is one way to earn up to a point in the LEED Materials and Resources section.
On a recent Data Center project, for example, 12,857 pounds of cardboard and 23,073 pounds of wood products were diverted from the work site and recycled.
In another project, installers and IT professionals minimized the cardboard and electrostatic discharge entering Data Centers by kitting and assembly off-site.
The customer earned LEED points from the recycling statistics, while the installer significantly reduced installation time with the preassembled racks and slashed nonproductive labor that would have been spent removing packing waste from the work site.
The LEED Point System
The USGBC's LEED system is a green building rating program, with 1.5 million square feet of
building space certified to LEED every day. The points system varies by version (LEED version 4 was announced in November 2013), but all include several subcategories. These subcategories have specific criteria and technical requirements to earn points toward certification.
One version offers four levels of certification that are determined by the number of credit points achieved in defined categories. (LEED Certified is 26–32 points; LEED Silver is 33–38 points; LEED Gold is 39–51 points; and LEED Platinum is 52–69 points.)
The categories and available points are as follows:
14 possible points.
5 possible points.
17 possible points.
13 possible points.
Indoor Environmental Quality:
15 possible points.
Innovation & Design Process:
5 possible points.
Managing Energy Usage through PUE
Another area that impacts green in both an environmental and monetary sense is energy management. PUE is the industry preferred metric for measuring infrastructure energy efficiency for Data Centers (see Figure 2).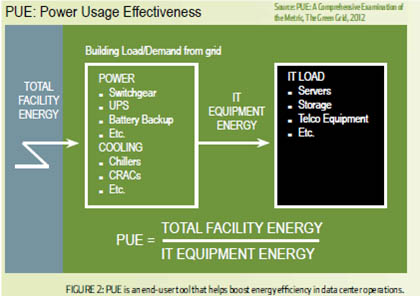 Developed by The Green Grid Association, a nonprofit, open industry consortium, the PUE metric is an end-user tool that helps boost energy efficiency in Data Center operations.
PUE can be used to illustrate a Data Center's energy allocation. For example, a PUE of 3.0 indicates that the total energy usage of a Data Center is three times greater than the energy usage of the IT equipment alone. The physical layer products, while accounting for roughly five percent of the total Data Center investment, can have a surprising impact on PUE. Pathways, cabling layout, containment and airflow can be maximized using a variety of best practices and products designed to optimize energy usage.
ISO/IEC 30134-2 is an international standard under development that will describe how to measure and interpret PUE.
The physical infrastructure products can have an impact on PUE. A number of companies offer solutions that enable companies to become greener—for example, advisory services or health checks to address the goal of lowering operational expenses and PUE.
Conclusion
The greening of IT is more than a public relations movement. For physical infrastructure professionals, the sustainability conversation will become more prominent in customer discussions.
Being conversant on the subject will enable many to help their customers or organizations realize their green goals.
Peter Bordonaro
Vicepresidente de Soluciones en la Cadena de Suministro
Anixter Inc.