Environmental sustainability - A high business potential - Part 1
The concepts of Sustainability, Leadership in Energy and Environmental Design (LEED), and Ecology continue to captivate customers and the perception is currently and continuously changing.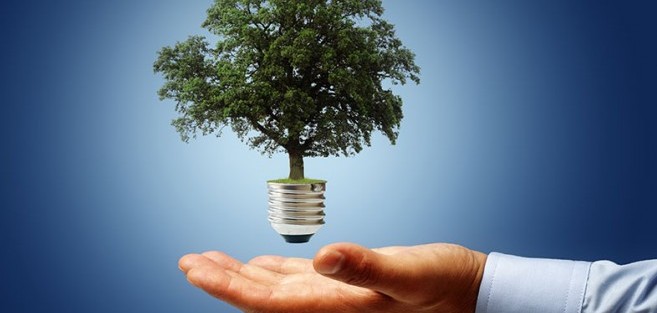 ENVIRONMENTAL SUSTAINABILITY: A HIGH BUSINESS POTENTIAL
While concepts like sustainability, Leadership in Energy and Environmental Design (LEED) and green continue to grab customers' attention, some believe that these are merely buzzwords that do little more than generate positive public relations. However, perceptions are shifting, and enterprises and installers are realizing that the value of sustainability to the environment and the bottom line can be measured in quantifiable terms.
Consider these trends:
According to the U.S. Green Building Council (USGBC), the number of commercial projects in the LEED program, launched in 2000, has grown to nearly 60,000 globally. More than 2.8 billion square feet of building space were LEED-certified as of Jan. 1, 2014.
More professionals are adding LEED Accredited Professional (AP) after their names in addition to professional affiliations such as RCDD, AIA, CSI, or PE. A LEED AP, of which there are now more than 50,000, has passed a test that covers green building knowledge in general and LEED specifically.
Power usage effectiveness (PUE) has become a business driver for information technology (IT) executives looking for ways to lower operating expenses and contribute to corporate sustainability directives.
In an Ernst & Young/GreenBiz Group survey, respondents cited cost reductions (74 percent) and managing risks (61 percent) as two of the key drivers of their company's sustainability agenda. The CFOs of 65 percent of respondents have become involved in sustainability.
By 2016, an estimated 48 percent of new nonresidential construction by value will be green, equating to a $120- $145 billion opportunity (see Figure 1)
More enterprises have established sustainability policies and request for proposals (RFPs) that are being created by LEED APs and require bidders to address how they can assist customers in meeting sustainability requirements.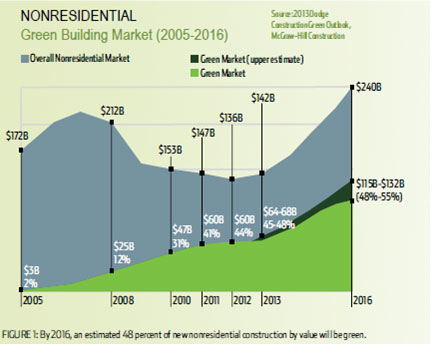 (Source: McGraw-Hill's 2013 Green Outlook Report).
What This Means to Telecommunications Infrastructure Professionals
As these trends indicate, there is a great deal of momentum behind and focus on sustainability.
Explaining and citing examples of how IT can assist its organization in meeting sustainability compliance goals can provide a competitive advantage that enables a professional to secure more business. For RCDDs, understanding green concepts and how the RCDD designation can assist companies in meeting their sustainability goals is becoming a key to business success.
Knowing the answers to the following questions may help to leverage knowledge of green concepts to assist organizations and customers.
Does the company or project have a sustainability initiative?
How can a professional assist the organization in accomplishing its sustainability goals?
In our next edition know the answers to these concerns and Peter Bordonaro conclusion.
Peter Bordonaro
Vicepresident
Supply Chain Solutions
Anixter.