Feel safe traveling on the highway
With the plan of highway concessions, some rules have been created to improve the stability, management, and user safety. To achieve this with breakthrough technology, the use of various equipment and systems was necessary in order to achieve security automation. This system is called ITS (Intelligent Transportation Systems) and within the different devices and systems that form the ITS, we can find the CCTV (Closed Circuit Television) security system, which contains a number of relevant components, making the streets increasingly safer to travel on.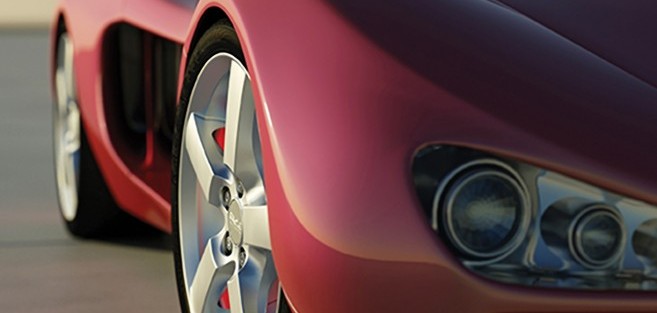 FEEL SAFE TRAVELING ON THE HIGHWAY
By Alexandre Santos
Introduction
Every time we travel by road, whether for work or holidays, we must take different precautions and care for our safety, may be by doing regular maintenance on our vehicles or carefully obeying traffic laws in our country. Over time, with the plan of highway concessions in Brazil, certain rules have been created to enhance stability in good driving and safety for all users, and to achieve this in a technological way, various equipment and systems were necessary for automation of roads; which integrated, allow users to be better informed and therefore better protected. This system is called ITS (Intelligent Transportation Systems) and within different devices and systems that form the ITS is the security system CCTV (Closed Circuit Television), which we describe below:
How the security system by CCTV is composed on roads?
This system is composed by:
• Video monitoring cameras
• Communication systems
• Management and Recording Servers
• Operational Control Center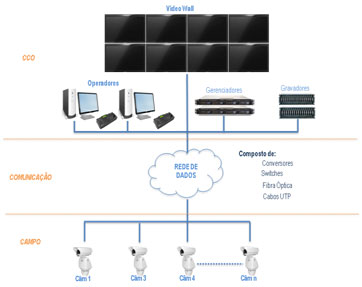 Figure 1 - Basic architecture of a CCTV security system for roads
What is the purpose of a CCTV system on a highway?
The primary role of CCTV in a road is to offer to the CCO (Operational Control Center) the ability to remotely monitor the licensed path, continuously providing information on traffic conditions in the most significant sectors of road allow monitoring major incidents. This operating system is usually 24 hours a day, 7 days per week, to avoid compromising the safety standard of the monitored sections.
What kind of cameras is being used on roads?
They are using cameras PTZ type, consisting of a translucent window cleaners, IR filter and CCD sensor type. The camera housing has sunscreen, heater, window defroster and a degree of protection IP66. Such cameras are generally used for easy cleaning, because there is the possibility to rotate up and use water from the same rain as a cleaner.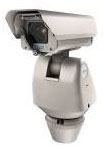 Culturally, positioning model is the most used, but also the model of Speed Dome is used because it has such good technical and qualitative characteristics as the positioning model. One of the major barriers in the use of Dome models in a road is the possibility of cleaning the dome, because they lack cleaners at their structure. However, there is already a tool, unknown by most integrators that can help them in the task of cleaning these cameras.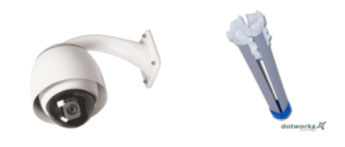 Figure 3 - Speed Dome Figure 4 - Cleaning Stick Speed Dome
Fixed cameras are well used in tunnels to perform detection of video analysis and traffic monitoring also at tolls and administrative buildings from road enterprises.
Protocol NTCIP
The NTCIP (National Transportation for ITS Protocol) is a set of standards to ensure compatibility and sharing between computers and electronic traffic control equipment from different manufacturers.
Within the NTCIP are two communication standards:
NTCIP Center to Field (C2F): Communication between the control center and field teams.
NTCIP Center to Center (C2C): Communication between control centers.
There is a NTCIP specification for each type of equipment present in an automation of road and the number corresponds to CCTV and NTCIP 1205.
The NTCIP is divided into 'levels' of NTCIP, instead of layers to distinguish the hierarchical architecture applied from the models defined by the model of open systems interconnection (OSI) and the ISO Working Group Engineering Internet (IETF). The five levels of NTCIP are: Level of information, application layer, transport layer, sub-network level and plant level.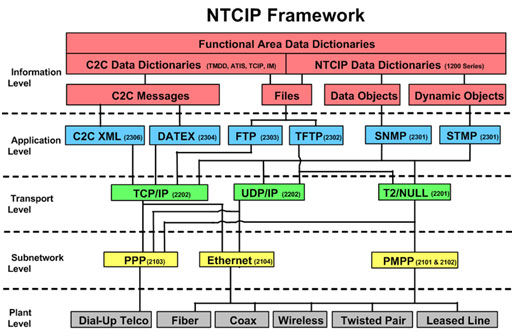 Communication system
The communication between field devices and operational control center depends on the location where it is installed. The cameras are usually interconnected via single-mode optical fiber media converters using 10/100 Mbps between the camera (DIN rail type converters) and the optical fiber concentrator node (converters rack type). Optical mergers are executed with an acceptance rate of 0.08 db.
In addition to fiber, converters, switches, UTP cables and connectors, other essential inputs for interconnecting cameras are needed.
Another form of communication that is being used is radio communication when it is not possible to obtain an infrastructure at the cameras installation point.
Management and Recording Servers
The image management and recording system usually based on a software (or set of Software) that operates on a image standard computerized platform, equipment, recorded images, users, access to information and stations operation. The system generally works redundantly, so that allows normal system operation even when the hardware has stopped.
The images generated by the cameras are usually stored for at least 30 days (24 hours per day) and images captured by the CCTV system in which it was recorded incidents causing interruption or disruption of the flow of vehicles are stored for a period of three years; and are indexed by camera, year, month, day, hour, minute and second.
Automatic incident detection on roads
Currently in security system projects for roads, Automatic Incident Detection Systems are being increasingly requested through mobile cameras.
The Automatic Incident Detection System operated by mobile cameras, aims to use the mobile camera preset positions for analysis and increase the effectiveness of operational equipment on the road. In these presets, Automatic Incident Detection has the following characteristics:
• Continuous operation in adverse weather conditions;
• Detection of stopped vehicles;
• Detection of vehicles traveling under or above the previously set speed limits;
• Detection of pedestrians and animals;
• Detection of falling objects and waste on the road, originated from vehicles

Fig5 - Stopped vehicle Fig6 – Opposite direction Fig7 - Data Collection
Operational Control Center
It is the operative heart of a road and operates 24 hours a day. In all systems operated at this location, the CCTV security system can be considered one of the main and most important; is why it is the eye extension of operators and basically all safety and operational actions are performed through this system.
Conclusion
Roads that currently operate with authorized companies operate and future licensed plans make even safer streets to transit. We know that security systems on a highway are not simply monitoring cameras and surely over time we will have great technological innovations in this sector. It is worth highlighting that even though technology helps us on the road of life, it is important to know that advices mentioned at the beginning of this article, as maintenance of the vehicle before travelling and rigorously following traffic laws must be each user's concern.
Alexandre Santos
Technology Solution Group
ANIXTER