Power & Cooling: concept design, a key component for project success in Data Centers
Building a new data center, or improving an existing facility, implies increasingly more sectors and more people within an organization. When facing a new project, these factors converge to include some aspects no one would have even considered some years ago. Anixter has availability of all the tools that are necessary to collaborate with the industry. Read this article and dive into the data center world experience!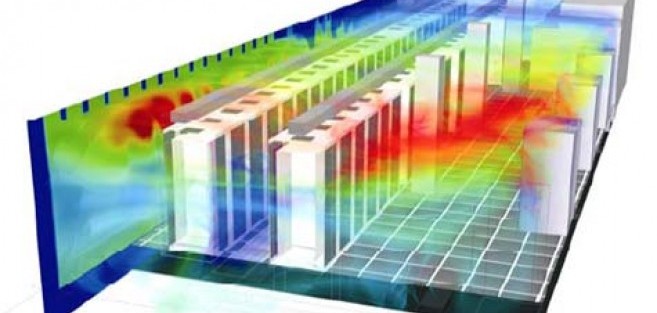 "We can predict everything...except what is going to happen", states one of the best known Murphy's laws. Building a new data center or improving an existing facility increasingly involves more sectors (and consequently, more people) within an organization. So when facing a new project it is necessary to consider some aspects we wouldn't even have taken into account some years ago. In the past, talking about IT managers' coordination with other areas, such as physical security, maintenance, finance and even the company's director's board might have been regarded as utopian. However, in today's scenario, we can find them all together sitting around the "small table" when making a decision over an IT investment.
Over the last few years, the direction of IT trends has taken a turn on what it is known today as the Data Center "industry", with some concepts including virtualization and consolidation, IP convergence (collaboration and on- demand service) and information protection based on the growing importance data stored in computing centers is acquiring.
On the other hand, efficiency and power saving are starting to gain importance in many Latin American countries, where the cost of Kw/h is starting to reach values that make companies think twice about the way they manage their power-depending systems. The usage of alternative -or green- energy systems is being considered and debated in today's scenario.
... And with so many new concepts, IT administrators are trying to manage their budgets efficiently while generating a return on investment that fits the expectations of both shareholders and clients (whether internal or external).
A number of surveys carried out by some of the bodies defining the DC industry standards, such as TIA, BICSI, UPTIME or ASHRAE, focus on critical issues that need to handled by IT areas, including service scalability, operational continuity, cost per square meter and power savings. This shows an evident common theme, rooted in the need for change and programmed growth, as a means to face the markets' current and future demands. In today's world, technological advances must be used as a vehicle to connect company strategies in the different markets where they perform.
Going into deep considerations, and using the OSI model as a parameter, in order to allow the application layer to provide users with the services they need, it is paramount that the physical layer is capable of "providing its service" suitably. This is where the two subsystems that are central in any project analysis today appear: the power and air conditioning systems for data center environment, more commonly known as "power & cooling" in the IT world.
These figures show how, from a very evident upward trend in the increase of loads at cabinet level originated by server consolidation, a series of layout alterations begin to show up, making it necessary to manage change and growth from a programmed, coordinated perspective with all areas involved, to ensure minimization of associated risks.
The new TIA-942 version, the most widely consulted regulation by DC industry leaders, recommends the building of "PODs" for new computing centers, thus observing which areas, within the DC, will have high or medium density, and allowing for consideration of future growth areas. This POD layout allows to define and plan present and future power capacity, room layout and the most appropriate cooling system for the defined model. At the end of the day, the biggest challenge is to obtain the best combination of CAPEX vs OPEX, i.e. invest on those technological solutions (CAPEX) allowing to manage all subsystems, as well as the entire DC (OPEX), in the most efficient and profitable possible way, from an integral viewpoint.
"You can't control what you can't measure"
Taking this into account leads us to a further consideration when defining the most adequate technologies for the power & cooling subsystems. The use of monitoring software at the solution level, or the new trend to use DCIM´s (Data Center Infrastructure Management), play a fundamental role when it is necessary to control aspects such as power usage effectiveness (PUE), critical loads and hot spot movements, imbalance of temperature and humidity within the white room. Currently, we see more and more data center managers are starting to use some kind of measurement system that enables to know the variation levels in their PUE all through the year, reaching ratio levels of 1.2 to 1.5; or working with temperature ranges between 18° and 27° on cold aisles (V9.9 ASHRAE). This shows the users' awareness on the importance of obtaining measures in order to take corrective actions.
Concept Design

Several independent aspects to be considered in DC layout have already been mentioned, but who can be sure every decision made on the different fronts will lead to success in a project? To achieve this, there is a process every new venture should go through. This process is called concept design.

Two reasons usually referred to as project-killers are unknown limitations, which are discovered in advanced or final steps of the project, and hypothesis that take a different path form the defined budget. Concept design is an approach in the selection process of the possible different architectures that can be applicable for infrastructure systems in a Data Center. Some general aspects need to be considered to define guiding principles as regards design, such as location, definition of critical loads, network architectures and cooling systems based on the facility layout or available room, mission-critical operational continuity, disaster recovery, and required levels of efficiency, among others.

Some of the aspects which can be solved with the help of concept design are whether the UPS will be stored inside or outside the white room, whether we will be using monolithic o modular technology, redundancy, definition of a precision cooling system based on the existence of a raised floor, critical loads and load density in the room, networking topology and network cabling, etc.

Although concept design is a useful tool that enables to make some important decisions, this is not a detailed engineering system or a consulting approach, since the process does not involve thermo-mechanic engineering, nor structure design and calculations.

Anixter Value Proposal for the Development of Data Center Projects

Anixter has a complete set of tools devised to foster collaboration with the data centers industry in the Latin American and Caribbean region:
A group of highly trained professionals ready to help customers along the entire process, and at the different stages of the project. This multidisciplinary, multi-country team present in the Latin American and Caribbean region has the tools and the knowledge to define technologies, design and model projects, and accompany partners and users along the process of technological definitions.
A channel program, Anixter Data Center in Motion, providing different levels of business partners, adapting the profiles to every specific need.
Anixter Data Center HealthCheck service, which, through an evaluation, can help identify all the aspects in your existing data center that need to be optimized. The analysis, based on the best practices recommended by the leading bodies regulating the industry, provides a professional report including our specialists' recommendations once the analysis and evaluation are completed.
Anixter Data Center College, a complete course resource with a curriculum designed to cover all the regulations defined in the best practices recommended by industry leaders, for the construction and operation of DC environments.
Anixter Labs, carrying out performance tests on all solutions marketed by Anixter, allows users to check how the different technologies available in the market will be performing in advance.
Our READY! Anixter Supply Chain Services. A Data Center hosts a large number of actors, sectors, and variables, making it very complex to execute work on the site. Certain situations, such as not having the right components at the right time, can prolong cycles within a project, thus creating havoc and causing great losses. Anixter can help you optimize material handling at the warehouse or on site with our expert logistic services, thus ensuring customers a complete, end-to-end coordination.
To obtain all the added value only Anixter can provide, in addition to the best products in the infrastructure market, please contact your Account Executive and find out why Anixter can be your best business ally.